Concentration Camps in the U.S.: Andrea Pitzer Decries Tent Cities for Detaining Kids Without Trial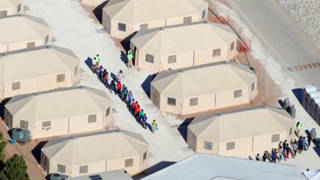 (DEMOCRACYNOW) Interview, July 5, 2018 — Has the Trump administration set up concentration camps in Texas for migrants? The answer is yes, according to at least one expert: Andrea Pitzer, the author of "One Long Night: A Global History of Concentration Camps." In one of her latest articles, Pitzer writes, "While writing a book on camp history, I defined concentration camps as the mass detention of civilians without trial, usually on the basis of race, religion, national origin, citizenship, or political party, rather than anything a given individual has done. By this definition, the new child camp established in Tornillo, Texas, is a concentration camp." We speak with Andrea Pitzer in Washington, D.C.
Transcript
This is a rush transcript. Copy may not be in its final form.
AMY GOODMAN: This is Democracy Now! I'm Amy Goodman, with Nermeen Shaikh.
NERMEEN SHAIKH: Has the Trump administration set up concentration camps in Texas for migrants? The answer is yes, according to at least one expert: Andrea Pitzer, the author of One Long Night: A Global History of Concentration Camps. In , Pitzer writes, quote, "While writing a book on camp history, I defined concentration camps as the mass detention of civilians without trial, usually on the basis of race, religion, national origin, citizenship, or political party, rather than anything a given individual has done. By this definition, the new child camp established in Tornillo, Texas, is a concentration camp."
https://www.democracynow.org/2018/7/5/concentration_camps_in_the_us_andrea