NY Politician: We Need to Block $3 Billion Handout for Amazon & Use Money to Forgive Student Debt | Democracy Now!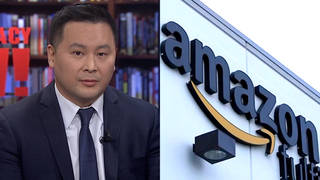 (DEMOCRACY NOW) Interview, November 16, 2018 — JUAN GONZÁLEZ: We begin today's show looking at Amazon and corporate welfare. Protesters are heading to the site of Amazon's future office complex in Long Island City, New York, today to condemn the city and state governments for showering Amazon with massive tax breaks and other giveaways in order to entice the company to expand into the city. On Tuesday, Amazon officially announced it would split its so-called second headquarters between New York and Arlington, Virginia, just across the river from Washington, D.C., after being offered more than $3 billion in tax breaks and other incentives. As part of the deal, New York taxpayers will even build a helipad for Amazon CEO Jeff Bezos, who is the richest man in the world. Amazon recently became the world's second U.S. company to be valued at over $1 trillion, thanks in part to the fact that the company paid no federal taxes in 2017. Amazon also built its company in part by not collecting local sales taxes on goods sold online.
On Tuesday, New York Governor Andrew Cuomo defended the massive breaks for Amazon.
GOV. ANDREW CUOMO: This is the largest economic development initiative that has ever been done by the city or the state, or the city and the state together. … For every dollar we invest, we're going to get back about $9, give or take. So, to find the money that we need to invest in the subways, invest in schools, etc., this is a big moneymaker for us, costs us nothing, nada, niente, goose egg. We make money doing this.
Source: https://www.democracynow.org/2018/11/14/ny_politician_we_need_to_block